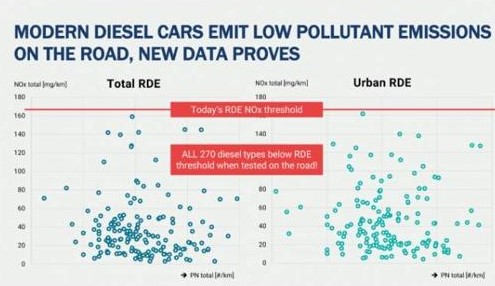 How do you solve one of the most pressing problems facing towns and cities? How do you satisfy the population's desire for cleaner air? And how do you achieve that without restricting the mobility of city dwellers through driving bans? Air quality in towns and cities is a major challenge for all concerned nowadays.
Thanks to new test procedures and engineering ingenuity from Bosch, a decisive technological breakthrough has now been achieved with regard to improving air quality.
The new, enhanced diesel technology will result in a further shift in the limits of what has been feasible so far, leading to a sustained reduction in nitrogen oxide emissions. This technological breakthrough can make the diesel about as clean as a gasoline engine. It means diesel is therefore still an affordable alternative for urban traffic and in the future will be an ecologically sound one too. Diesel engines reduce the impact on our climate. A diesel that conforms to the Euro 6 emission standard emits some 15% less CO₂ than a comparable gasoline engine. The lower fuel consumption of diesel engines conserves resources – and saves frequent drivers money.
Diesel remains absolutely essential for achieving the EU's climate targets. Without diesel, it will be hard to achieve the fuel-efficiency and emissions targets that the EU has set itself for 2020 and beyond. Since the introduction of particulate filters, diesel emissions have effectively ceased to be a factor in particulate pollution in cities.
Vehicles that are equipped with state-of-the-art diesel technology will have no discernible negative impact on the amount of nitrogen oxides in city air – regardless of the driver's style of driving or the vehicle's engine temperature.
According to the ACEA (European Automobile Manufacturers Association), Euro 6d-TEMP diesel engines significantly reduce the NOx emission limit on the road.
Last year a total of 270 diesel passenger cars passed not only the mandatory laboratory emissions test under the WLTP (Worldwide Harmonised Light Vehicle Test Procedure) standard, but also the RDE (Real-Driving Emissions) test, which became mandatory in all new registrations since September 1, 2019. 
The NOx emissions of most of the diesel cars examined were well below the maximum allowed values. 
Modern diesel vehicles are important to the mobility mix for the future. For companies, in particular, they continue to play an important role in the selection of various driving and mobility alternatives. One thing is clear: Those who drive frequently, and travel long distances, have no other alternative to diesel in the medium term. With low fuel consumption and low emissions of polluting gases, modern Euro 6d-TEMP diesel engines not only convince with their ecological characteristics, they are also economical. For regular drivers, they offer the best total cost of ownership (TCO) balance for the foreseeable future.